Jaw Harp Demonstration
Jamie demonstrates the jaw harp, a simple, fun, and affordable instrument.


Multi-tracking Demonstration
Zinzan does a basic introduction to multi-tracking on Audacity. This is a great way to start writing music by yourself without buying professional equipment.


Meandering Books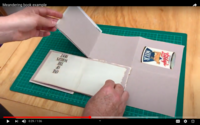 In this tutorial, Kari takes us through how to make a meandering book. This is a small book made of folded paper. All you need is an A4 or A3 piece of paper!



Below is an example of a completed meandering book that Kari made.




Here's another example by Erin with some very cute cartoon characters.


Ceramic Bowl Tutorial
Erin from Artsenta gives a demonstration of turning a foot ring to finish a ceramic bowl.

Doodle Art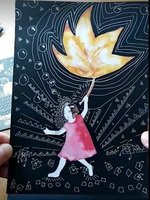 Dee provides a tutorial about doodle art and collage. You will need some black paper, gel pens, scissors and magazines you don't mind cutting up.


Paul on Concrete Poems
Paul gives an introduction to shape poetry and outlines the process of making one.


Making a Blizzard Book
Kari from Artsenta demonstrates how to make a blizzard book.