Drawing the human form
Jamie demonstrates how to draw the human form in proportion.




Bob Ross inspired painting
Collage Timelapse
Claire works at incredible speed to create a collage in lockdown.

Image Transfer Demo
Claire Demonstrates image transfer using a picture from a magazine, paint, and fabric.

Putiputi Tutorial
Kari demonstrates making a simple putiputi

Jaw Harp Demonstration
Jamie demonstrates the jaw harp, a simple, fun, and affordable instrument.


Multi-tracking Demonstration
Zinzan does a basic introduction to multi-tracking on Audacity. This is a great way to start writing music by yourself without buying professional equipment.


Watercolour Chickens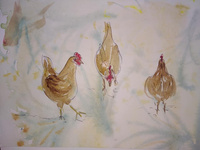 Dee sketches her chickens over a prepared watercolour background before painting them.